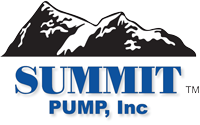 To become a part of our product line, a product and manufacturer has to meet certain standards. After all, our company's reputation rests not only on our team, our knowledge and service, but on the products we represent.
QUALITY
An OEM with a formal Quality Assurance Program that incorporates general industry practices and ISO standards. (See complete details at summitpump.com/extras)
GREAT PRICING
Typically 20-25% savings, but up to 50% is not unheard of (depending on product).
PROVEN TRACK RECORD
Since 1982 Summit has manufactured quality pumps and pump parts for industry worldwide, and prides themselves on being the best value in the market.
AVAILABILITY
Over $11,000,000 worth of inventory in stock helps Summit react to emergency and rush orders.
RESPONSIVE
We know that when you need it, you need it now. Downtime is expensive. Summit is known for rapid response.
PARTS AND SHAFT KITS
Drop in replacements for Durco, Flowserve, Gorman Rupp, Goulds, Moyno, Worthington and more. All parts guaranteed to fit.
---
A few of the many models available:
 
 
 

Progressing Cavity

Capacities up to 4,500 GPM, pressures to 1,500 PSI. Drop in replacement for Moyno®, Tarby®, etc.

SN Self priming

Capacities to 3,400 GPM, heads to 145 FT. Interchangeable with Gorman Rupp® T and Super T.

SP Slurry Pumps Horizontal Split Case

Drop in replacements for Warman® HH. 24% chrome or rubber lined versions.
 
 
 

DSR/DSN Horizontal Split Case

Capacities to 12,000 GPM, heads to 400 FT., stainless wetted parts optional. Interchangeable with Worthington® LN.

CC & FM Closed coupled or frame mounted)

2" thru 10" sizes available, capacities to 3,400 GPM, heads to 145 FT. Stainless wetted parts optional. Drop in replacement for Peerless® C&F.;

2196 ANSI*

Capacities to 6,000 GPM, heads to 730 FT, temperatures to 700°. Interchangeable with Goulds® 3196.**
 

2175 Stock process pump

Capacities to 7,800 GPM, heads to 350 FT. Interchangeable with Goulds® 3175.

* Recessed impeller, low flow and self priming versions as well.
** Flowserve® (Durco®) Mark 3 ANSI. Interchangeable versions. Summit® Clark 3 also available.