Did you know that when using an internal gear pump in applications above 225 degrees Fahrenheit or viscosities above 750 SSU, the pump may need extra clearances to operate properly? These extra clearances are applied to the rotor's outer diameter, rotor's inner diameter, the end clearance and (if applicable) the shaft or bracket bushing inner diameter.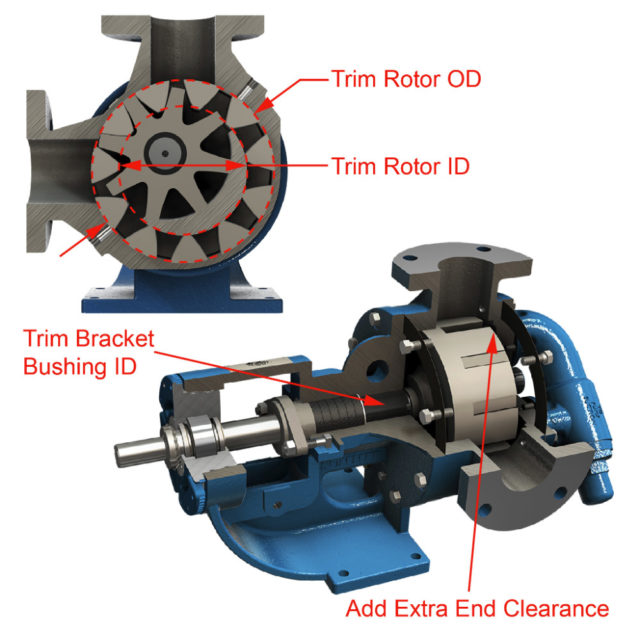 In high temperature applications, the extra clearances are needed to allow for expansion of the materials. As a manufacturer, calculations for the clearances are controlled by material selections and are determined based upon a specific material combination within the pump. Changing the part's materials could change the amount of extra clearances needed for the pump.
High viscosity applications need the extra clearance to allow the fluid to pass through which keeps the pump from reaching its maximum allowable horsepower limit. If these clearances where not applied, excessive wear or failure of the pump would be premature.
This is just one reason why it is of the utmost importance to collect the application's fluid and process properties to keep your pump's life at a maximum.
Click here to download our Application Data Sheets.
Click here for the VV40 and VV95 extra clearance documents.
-The Summit Pump Team
Learn More
Jim Elsey's Pumps and Systems Articles
---
We are your Best Value by
"providing quality pumping products
in a timely manner, at a fair market price."
For information and details on Summit pumps and parts, click here or call us at 502 267-8677.
Copyright © 2018 Summit Pump Inc., All rights reserved.