Solutions like this are what we do every day at R. A. Ross.
Tough applications and regulations are right up our alley
Situation: When a rural sewer utility came to us looking for a more economical grinder pump for their sewage lift stations, we had the exact solution; the HCP, GF Series grinder pump which was a "drop in" replacement for the competitors pump the customer had been using. In addition to matched performance and ease of installation, the HCP pump was over $500 less expensive than the competition. The customer is so satisfied with the price and performance of the HCP pumps, they are replacing the competitors pumps one by one as they go bad. The first HCP pump installed has been running for two years now with no issues. HCP Pumps America manufactures a wide range of submersible pumps from fractional HP to 250-HP for just about any dewatering or sewage application.
The HCP Grinder Pump used in this case study had the following specs:
• GF series model 32GF22.2: 44 GPM @ 108' TDH max
• 1.25" NPT discharge w/elbow
• Semi-open impeller
• 55-60 Rockwell C hardness cutter and cutter ring
• FC 200 cast-iron construction
• 316SS hardware
• 3-HP, 230-460/3/60 motor
• 30' control cable
• Double mechanical seal
Lower – carbon ceramic
Upper – silicon carbide/silicon carbide
Give us a call and let us find a solution for you!
HCP is your one stop shop for submersible pumps of all kinds, shapes and sizes with pumps to
at least 250 HP. HCP also offers grinder pumps and even down hole well pumps.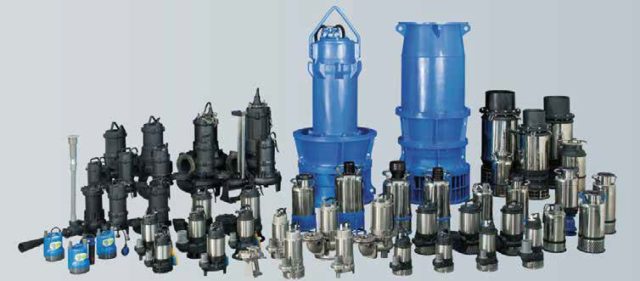 SUMP PUMPS (A Series)
1/2-3 HP to 290 GPM to 100′ TDH
Wastewater Sump 2″ & 3″ discharge
CUTTER PUMPS (WASTEWATER/SEWAGE)
(AFC Series) 2-3 HP to 63′ TDH 3″
to 291 GPM
MIXERS (COMING SOON)
DEWATERING (ASH & AH Series)
11/2-10 HP to 215 GPM to 135′ TDH
SS w/hi-chrome hard impleller
2″-6″ discharge
SLURRY PUMPS/DEWATERING PUMPS
(SAND & GRAVEL, COAL PLANTS,
CONSTRUCTION)
(AG & AFG Series) 2-15 HP to 125′ TDH
to 687 GPM 3″-6″ discharge
MAKO SERIES
SUBMERSABLE WELL PUMPS
304 SS to 155 HP to 1,378′ to 660 GPM
5″ to 8″ discharge
LARGE VOLUME DEWATERING (L Series)
1/2-20 HP TO 2640 GPM TO 20′ TDH
3″-12″ discharge, _____ & mixed flow
AXIAL FLOW (LA Series)
50-200 HP to 24′ TDH to 42,800 GPM
22″ to 28″ discharge
PANELS: ENGINEERED CUSTOM, STD LIFT
STATION CONTROLS
EFFLUENT (F Series) 1/2-10 HP to 520 GPM
132′ TDH 2″-4″ discharge
STAINLESS STEEL (S Series) 1/2-5 HP to 72′
TDH to 290 GPM 2″ to 3″ discharge
ACCESSORIES
• Guide rail systems
• Float switch
• Flange/Flange set
• Outlet set
• Adapters
• Supplements
• Basins
GRINDERS (GF Series)
1.25-5 HP to 88 GPM to 120′ TDH
11/4″-2″ discharge
JET PUMPS (JF, JP & GRS Series)
EJECTOR PUMPS ADDS AIR TO LIQUID
to 10 HP to 1.8′ TDH to 555 GPM
SEWAGE/WASTEWATER (AF & IF Series)
1/2-250 HP to 148′ TDH to 8206 GPM
2″ to 16″ discharge 4″ solids
SUCTION LIFT SELF PRIMING NON-CLOG
2″ to 12″ to 125 HP to 2065′ TDH to 5500 GPM